Add Listing Parent Category Selection Options
Adds three more options that make parent categories more useful and relevant in your site.
Force the selection of a parent category when a child/subcategory is chosen
When your site users add a listing and choose a relevant subcategory, then, when the listing is saved, the parent category of each child/subcategory will also be selected automatically and saved with the listing.
Force the selection of the first parent category as the default category
Normally the first category chose is set as the default category, and then the user can change that. With this option enabled, the first subcategory's parent category will be automatically set as the default category when the listing is saved.
Skip Parent categories when calculating Package Category Counts
This option will exclude parent categories from the count of categories that may be selected for each package. This avoids a potential issue where you would otherwise charge listing owners for categories they might not have explicitly chosen.
Author Panels
wpapps Options for GeoDirectory includes a set of beautifully styled author panels that can be used as widgets or shortcodes. These panels will give your listing owner customers a precise and beautiful  overview of their directory activity.
These widgets can be placed in any widget area as shortcodes within profile tabs. If you are using BuddyBoss you can place them as widgets on the member profile or use our BuddyPress Options addon to set up custom tabs to hold these panels.
For each panel you can set your own custom title. For panels that work with multiple GeoDirectory custom post types, you can choose which post types appear.
Author Panels
My Listings – Show all listings authored by the logged in user, in each CPT separately. Choose which GeoDirectory CPTs to show. You can use more than one panel, so it is possible to show "Blog Posts" in a separate panel.
My Favorites – Show all the listings that the logged in user has favorited using the GeoDirectory favorites system. Choose which GeoDirectory Custom Post Types to display.
My Reviews – Show all the reviews created by the logged in author, for each GeoDirectory custom post type. Choose which custom post types to show.
Reviews on My Listings – A Command center panel to help listing owners stay on top of reviews that other users have added to their listings.
My Lists – Shows the List Manager lists that the user has created. One of a kind panel for showing this information.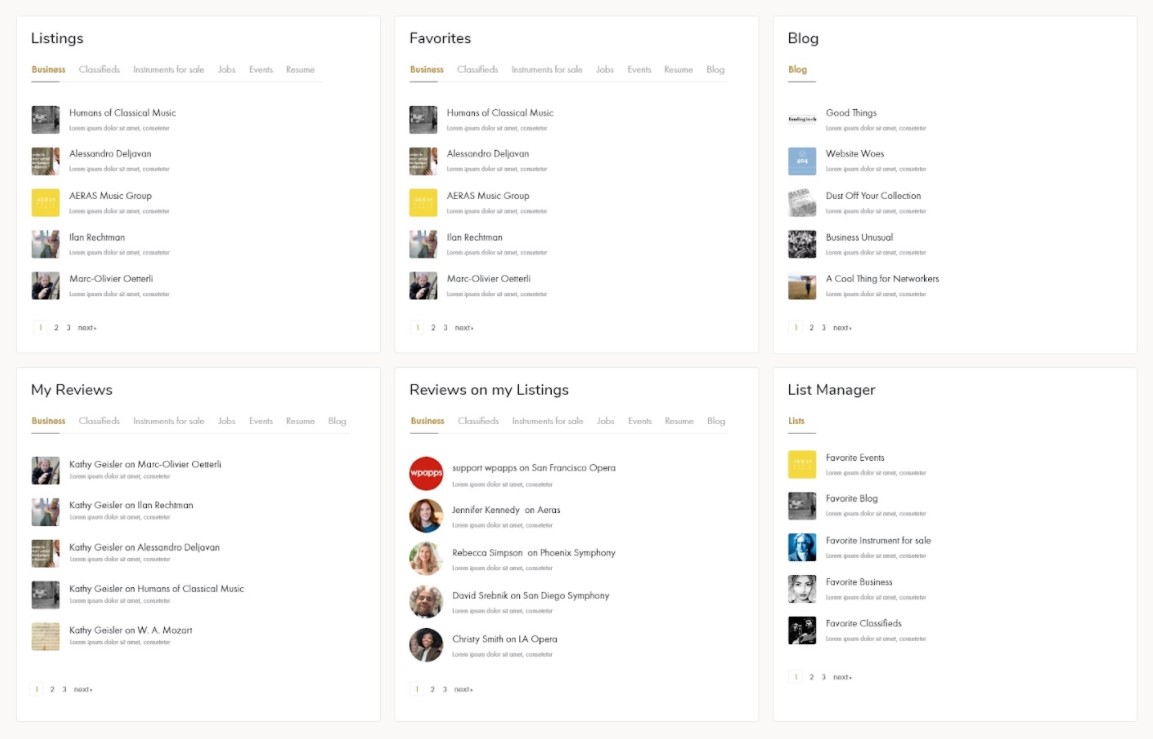 Additional Shortcodes
Edit My Listing Shortcode [wpapps_gd_edit_link post_type="gd_places"]
Give your listing owners a direct menu link to edit their listing. No need to visit their profile or find their listing on the site; just click the menu item to go directly to the edit listing page.
Perfect for sites where listing owners will only have one listing like "My Listing" or "My Business".
Your site has to enable shortcodes in menu items, done easily with this plugin: https://wordpress.org/plugins/shortcode-in-menus/
Add Linked Post Shortcode
Add a link on the details page template for the listing owner to add a new listing, with the Linked Post field already populated.
For example, if a Business Listing owner often adds events, you can create a shortcode that will show a link on their business profile to add another event, and the Link Post: Business field will be populated with their Business Listing.
You can get a special bundle here
A special bundle for you who wants to complete your web design! This package includes: GeoDirectory options BuddyPress options Userswp options Sorting for Search for GeoDirectory Advance Fieldset for GeoDirectory…